最大50,000Tポイントが貰える 第2回SBI証券のポイント投資ご紹介キャンペーン
Mixture of pigment and photosensitizer on printing paper, plastic paper,
Roughly spray. After drying, overlay the magnifying negative and use the UV exposure machine,
Burn. Then wipe with tap water, sponge, etc.
An image appears. It is dry and one step is completed.
Repeat this process, replacing the pigment with C ・ M ・ Y ・ B.
For this print, I used C, M, Y photosensitizers.
For my printing technique
The material of silk printing is being used for
my printing technique. Material is waterproof paper,
a sensitization agent, acetic acid vinyl, Y.M.C.K. pigments,
etc. With an ultraviolet ray exposure machine,
about eight sheets are exposed using a long-tone
or short tone film etc. from one sheet,
and development processing is carried out only with water.
It is very easy.
the organic pigments for sensitization color PIGUMENT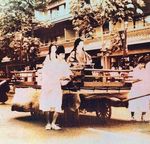 0